Moon Area High School
"Fighting Tigers"

Football - 2003

Team Photograph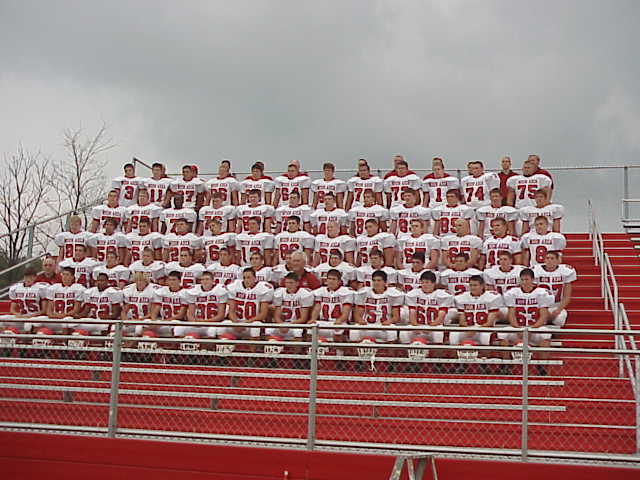 Front Row: Casey Braendle, Mike Williams, Guy Lucas, Todd Rinaldi, Taylor Fecko, Jake Sykes, Steve Raso,
Jim Pickens, Scott Brittner, Bill Kirby, Mark Lopez, Kyle Quel, and Josh Sinclair.
Second Row: Tm Photographer Bruce Billings, Chad Trenney, Eric Booth, Ryan O'Connor, Joe Gavita, Bobby Francis,
Jon Oberdick, Scott Derenda, Coach Mark Capuano, Andrew Miller, Mike Seretti, Nick Peterson, Ryan Butschle,
Casey Williams, and Mitch Baer.
Third Row: Chris Boyer, Mark Hartz, Dante Morsillo, Mitch Morsillo, Kevin Carahan, Robbie, Leonard, Joe Vennare,
Brian Viti, Pat Metzler, Jim Fodse, Dallas Stewart, Brian Sherman, and Matt Bowe.
Fourth Row: Mike Hytla, Bill Capkovic, Mamadou Balde, Nick McCutheon, Tyler Hersperger, B. Montgomery,
Mark Jeffries, Mike Yakima, Drew Dixon, Brian Schmidt, Owen Kirkpatrick, and Matt Dowdell.
Fifth Row: R.J. Rush, Ben Gresco, Ryan Helfrich, John Bachman, Josh Shuty, Matt Setnar, Vince Drnach,
John Clary, Mike Christ, George Hingson, Mike Paich, and A.Q. Shipley.
Top Row: Equip Mgrs Joe Farquar and Mike Shutak, Coach Todd Fuller, Coach Steve Smiley, Coach Roy Meanor,
Trainer Jerry MacFarland, Coach Steve Dish, Coach Andrew Parshall, Coach Frank Todd, Coach James Winner,
Coach Paul Zupke, and Coach Jim Boni.